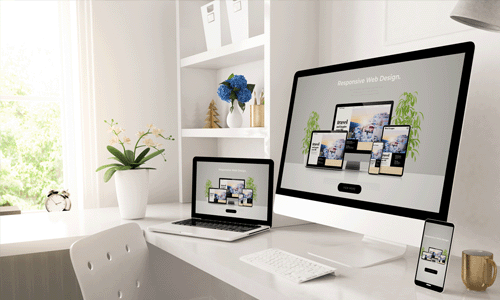 Expertly designed. Affordably priced.
A custom site designed by an expert doesn't have to break the bank. Let the pros at NSIGNIA® design a responsive, professional website just for you, with everything you need to succeed.
Custom designed by an expert
We're with you every step of the way.
We've streamlined our custom website design process into four steps, with an average turnaround time of 10 business days*.
Step 1: Share your vision.
You'll meet with one of our designers over the phone or virtually and tell us your goals for the website. The designer will discuss pricing, website domain, hosting options, and content. When you're ready to move forward, you'll pay a security deposit.
Step 2: We build a prototype.
Once we have your input and have agreed to a concept, the designer will get to work bringing your vision to life. We'll send you the prototype to review, and you can request changes during this phase of the project.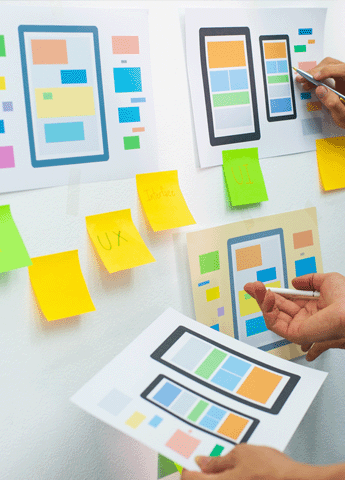 Once we have feedback from you on the initial prototype, we'll work to apply any changes you've requested and send a final version to you for approval. Once approved all fees have been paid, we'll help you publish the new site for the world to see.
When changes are needed to your site, you will be able to make most of them on your own. But, if the need arises, you can utilize our 24/7 technical support team for help or consult with your designer to have us make the changes for you.
*The average turnaround time for a custom website is 10 business days. This may not be true for your business as all sites vary in scope in complexity. Your NSIGNIA® Consultant will provide a time estimate after your free initial consultation, subject to our Terms and Conditions.
A plan for every business.
Turnkey site for small businesses.
Built in Website Builder
Free, no commitment consultation

Dedicated NSIGNIA® Consultant

Mobile responsive site with up to 5 pages

Attractive designs tailored to your business

Advanced features such as video headers, image sliders and galleries

Blog functionality for simple updates and company news

Free SSL certificate for your security
Turnkey site for small businesses.
Stunning WordPress Design
Includes all the features of Premium, plus:
Award-winning ColibriWP WordPress theme
Perfect for growing enterprises.
Built in WordPress
Includes all the features of Premium and Premium Plus, with:
Website Design Plan pricing does not include applicable taxes or cost of domain name registration or transfers. Monthly Website Builder or Managed WordPress plan required. Your NSIGNIA® Consultant will outline all costs and provide a final estimate of initial and monthly costs after your free initial consultation.
Pay it in 4 interest-free installments.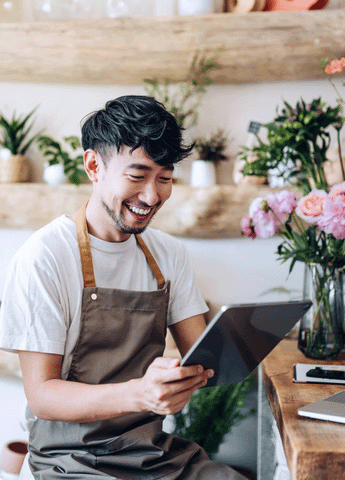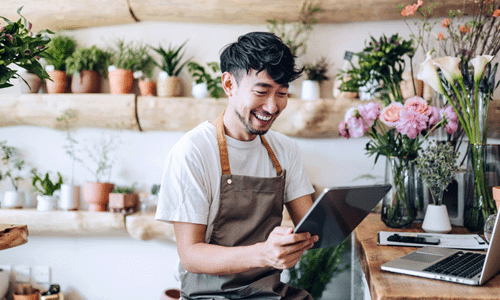 We're here for the long haul.
After your site is live, you'll be able to make most changes yourself in Website Builder or WordPress with Colibri WP. Our 24/7 support team is always available by phone to guide you through changes, or you can schedule time with your NSIGNIA® Consultant.
Monthly Maintenance Plans
The best websites are updated frequently. As in, a lot. While many changes can be made yourself, if you purchase a Monthly Maintenance Plan subscription, you will enjoy:

One monthly check-in with your dedicated NSIGNIA® Consultant

Anywhere from 30 minutes to 10 hours per month of site changes, depending on the plan purchased

Discounted rates if you need more than the plan limits

Ability to pause or cancel at any time
If you're sure your site won't need a lot of maintenance that you can't do yourself, you can always request an appointment with your dedicated NSIGNIA® Consultant. You'll work together to outline changes and agree on a budget and timeframe.
Monthly check-in is subject to schedule availability. Site changes are billed in quarter-hour increments in accordance with our Terms of Service.